Below you will find a few suggestions to get you started:
Bee's Floral and Landscaping - If you haven't visited Bee's lately you are in for a surprise. Owner, Lorrie Paige, would love for you to come see their newly remodeled showroom. Need a gift certificate for someone? She has them for both the floral shop and the landscaping.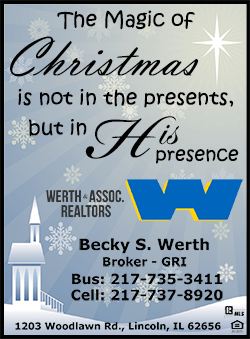 Country Bumpkin – A local artist knits some beautiful pieces that would make a great gift for the special lady on your Christmas list. The wool comes from llamas that she raises; she shears, spins, and prepares the wool herself. Stop by Country Bumpkin in Elkhart to see these wonderful items for yourself.


Elk's Pro Shop - PGA Professional/General Manager, Jeff Peterson, and staff are ready for your golfing needs. Whether you are a beginner, a pro, or somewhere in between; the Pro Shop has clubs, bags, hats, shirts, balls, and a whole host of other essentials to improve your game. Don't forget, they have gift certificates as well.


Horsefeathers - If you are one of those people who love to go in search of the most unique one of a kind type's of gifts you need to visit Horsefeathers in Elkhart, IL. This quaint shop has a small town atmosphere with a big heart. There are no strangers here. Stop in today.


Johnson True Value – If you haven't stopped by the new Johnson True Value Hardware and Gardens in Mount Pulaski you're missing out. Open seven days a week, the helpful staff is ready to help you with your hardware, garden, and firearms needs. You'll find the store open 7:30 a.m. - 6 p.m. Mon-Sat and 10 a.m. - 3 p.m. on Sun. Stop by the new location for last minute gifts and don't forget the batteries.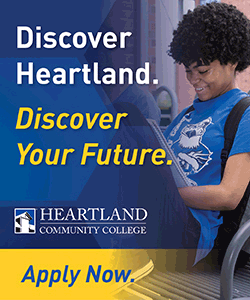 Lincoln Sportscards and Gaming - Justin Ott, one of three owners, is shown with a sampling of cards and games they recommend for Christmas. The store features baseball, basketball, football, Pokemon and Magic cards, and games. The store is located at 527 Woodlawn Rd. and the hours are: T, W, Th 5 p.m. - 9 p.m., Fri. 5 p.m. - 11 p.m. and Sat. 10 a.m. - 4 p.m.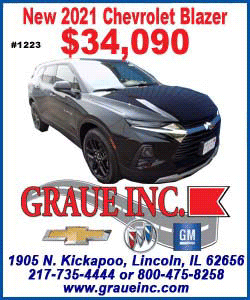 Market on the Hill – Supporting local producers and farmers, Market on the Hill in Mount Pulaski is open 7 days a week for your fresh-food grocery needs: Mon - Sat 10 a.m. - 6 p.m. and Sun 10 a.m. - 2 p.m.

Daily lunch specials are available and advertised on Facebook. Stop by and say "Hi!" to the girls who will greet you with a smile and lend a helping hand any day of the week.


Neal Tire and Auto Service - Manager Kenny Biehl stands ready to help you with all your auto accessory needs. When you want to ride in style and trick out your ride, visit their shop in downtown Lincoln. If you don't know what your loved one wants, you can always get a gift certificate and let them choose!!!
RJD Hobbies & Racing - This is one of the hottest items in the store!!! Now you can get a radio controlled vehicle that has replaceable parts!!! If something breaks you don't have to buy a whole new one. This makes for longer racing with that favorite race vehicle! Also watch for race times for indoor racing this winter.


Sir Renna Tea - Be prepared to linger in this one! You could spend an hour and never see everything. There are tons of unique Christmas gifts, but one of the newest offerings is a gift box with your choice of teas. The store features bubble tea, teas, jewelry, candles, treats, games, books, clothing and so much more. Located in the heart of downtown Lincoln at 113 N. Kickapoo.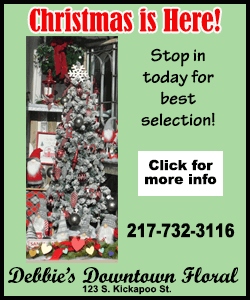 The Bee - Melanie Welch is the owner of this relatively new unique specialty shop. Pictured is a new shipment of Christmas plants and cactus. If you or someone you know loves plants you have got to stop in for a visit or get a gift certificate...or both! The store sports clothing, gifts for guys and gals, games and books as well as Christmas and home decor. Her shop is located near downtown at 514 Pekin St.

Who is your favorite merchant? Drop in and tell them who you are shopping for and let them show you what they have that might fit the bill. You might be surprised by something new or you couldn't have thought of yourself.

Local business have devoted their lives to bringing you the best products and ideas for every day, and specialize in making your life easier with gifts for your friends and family.

(Plus, you'll not only save on gas, or shipping and handling, but you'll have your gift in hand too!)

You make Logan County a great place to live and shop. So, remember to shop local for fine gifts for the holidays.